Every now and then, we receive a customer request for more audio volume from a ViewClix frame. The solution is both inexpensive and easy. On the back of both the ViewClix 15 and the ViewClix 10 is a standard 3.5mm audio jack. This jack can be used to plug in external speakers or to add headphones.
IMPORTANT NOTE: For ViewClix 15 frames, a small adapter may be needed in order to plug in external speakers. Please contact ViewClix and we can provide the plug adapter.
For speakers, we recommend small "PC" speakers such as these: Logitech S120 speakers We've tested them and they work well; customers have also provided positive feedback on these speakers.

During installation, be sure to have the speakers separated away from the external ViewClix conference microphone. Placing the speakers too close to the microphone could lead to feedback and sound interference. The S120 speakers do have a slim design so to prevent them from tipping, you might consider securing the base with double-sided tape or velcro.
For headphones, ViewClix frames will work with any headphone (earbud, over-ear, on-ear) that has a 3.5mm compatible male end.
When speakers or headphones are plugged in, the internal speaker is turned off. Note: Due to audio latency issues with some products, ViewClix frames do not support bluetooth speakers or bluetooth headphones.
Below are photos indicating the location of the 3.5mm audio jack for both Smart Frames.
Audio Outplut Jack location on ViewClix 15 Smart Frame.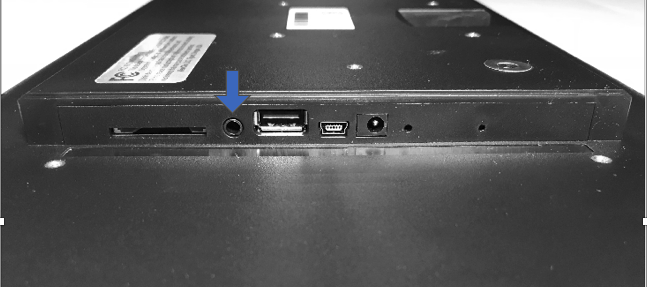 Audio Output Jack Location on ViewClix 10 Smart Frame